---
Upcoming Meetings:
Central Texas Confederation:


19-Nov-2000 1:00 PM. Tropical Heat Cafe in Austin, 900 E. Braker Lane near I-35.
West Texas Confederation:
1st Wednesday of every month,
7 PM at:
Elmer's Family Restaurant
6305 Montana Ave, El Paso, TX 79925
Phone: (915)778-5485
Check out biker event information around El Paso and other cool stuff at the Rude Dog Leather web site.
South Texas Confederation:

29-Oct-2000 3:00 PM. Palmer's Ice House, 714 Freeport St. (I-10 @ Wayside), click here for more details

Northwest Texas Confederation: TBA
All motorcycle clubs are invited to attend. Two representatives from each club are allowed to officially represent your club, each club is allowed one vote at the Confederation meeting. You may bring as many people as you like. Check here for more information about the Texas Confederation of Clubs.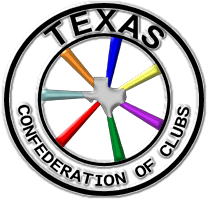 Santa says, "Ride on in, check us out, and bring your club
to your next local Confederation of Clubs meeting!"
---
Texas Attorney General John Cornyn
Issues an Unfair, Inaccurate Opinion
Resulting in Harassment of Bikers
John Cornyn issued an opinion on 7/18/2000 stating that an officer has the right to stop a rider or passenger for not wearing a helmet if the sticker, that is mandated by law, is not affixed to the license plate of the motorcycle.
Well folks, the law uses the word "may" when describing whether or not you need to have one. Here's a copy of Section 3e. out of the law:
A person may apply to the Department of Public Safety for a sticker for each motorcycle owned by the applicant.
Note that it says you may apply for a sticker, not that you must. Before this it says the Department of Public Safety shall provide the sticker, it doesn't say that you're required to get it. Sputnik has sent a letter by fax expressing his opinion and asks that every other motorcycle in the state does the same thing. Please ask everyone in your area to send a fax to:
John Cornyn
State Attorney General
Austin, Texas
512-463-2063

or call 800-252-8011
and voice your displeasure with his decision. If you have received an illegal ticket, let them know. Keep it short. Ask everyone to do this.
Thanks
And, always remember to check the TMRA2 web site for any legislative information. If you get a ticket, please do contact the TMRA2 state office, just check the web site for complete information.
---
The 2000 NCOM Convention is over. Check here for pictures of the Central Texas C.O.C. officers.
Here's our good Texas friend Sputnik and Colorado's good friend Senator Ben Nighthorse Campbell.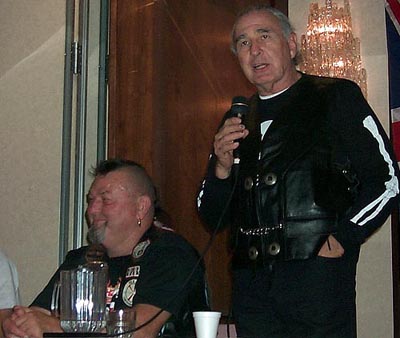 This picture was taken at the NCOM convention. And a disclaimer, both of
these folks are good friends to the entire nation, not just their home states.
---
Information we've received from NCOM - this is just the beginning, but a start is better than no start at all. There should be more information here as time allows.

New Info: The Sept. 17, 2000 Central Texas C.O.C. meeting minutes.
---
Don't miss the Legislative Day on January 22, 2001 at the State Capitol in Austin. For more info, check out the TMRA2 web site. This is important for those who wish to continue to have freedom of choice about wearing a helmet in Texas, as well as to help prevent No Fault Insurance (something that would dramatically increase the expense of motorcycle insurance).
---
Upcoming yearly NCOM/ICOM meetings:
Orlando, 2001 - Click Here for the flyer (~82 kb jpeg image)
New Orleans, 2002
---
HEY MEMBERS: Sometimes I check this, sometimes I don't. I always mean to do a better job but I have to keep on myself to remember. Sorry for those who have sent notes without a very timely reply, we just don't get much e-mail besides Spam (unsolicited junk) at this address. Please try to send information directly related to the COC, like things related to the COC or member clubs that should be posted on the web site. Please NO JOKES! I don't have time to read the jokes. Thanks :-)
Questions? Send us mail.
Last Update: 30-October-2000